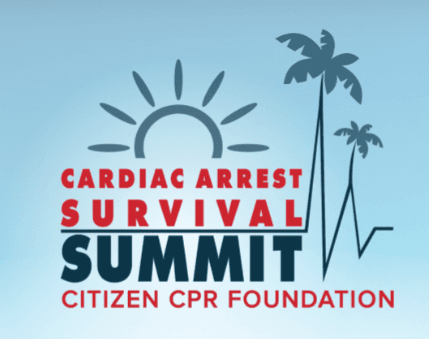 Avon, Colorado, June 2, 2023 – Starting Hearts has been selected to present at the Cardiac Arrest Survival Summit 2023 with the topic of "Age-Appropriate Education in Leadership and Lifesaving Skills" where Executive Director Alan Himelfarb and Director of Education Janet Newman PhD will present their exciting and newly completed online CPR and AED related curriculum.
The 2023 Cardiac Arrest Survival Summit is an annual event, put on by the Citizen CPR Foundation. The Summit is the central hub for resuscitation professionals, educators, SCA survivors and advocates and brings together the widest array of professionals and individuals involved in every link in the chain of survival.
The Starting Hearts Call.Push.Shock.™ program is the first of its kind, state-of-the-art, age- appropriate curriculum in leadership and lifesaving training for students from kindergarten to adults. Developed over twelve years and presented to over 35,000 participants, this course of study offers four classes progressing throughout a child's primary and secondary education, reinforcing important lessons and skills to last a lifetime. Contents of this all-inclusive approach include a portfolio of videos, homework, certificates of achievement, and lesson plans/instructor guides for each class. The curriculum meets state and federal guidelines for each age level.
Dr. Janet Newman, Starting Hearts' Director of Education noted, "Teaching students of all ages life-saving, leadership and communication skills will ultimately lead to safer communities for all."
The Cardiac Arrest Survival Summit is the 23rd international conference on cardiopulmonary resuscitation (CPR) and takes place from November 29 — December 2 at the Town and Country Resort in San Diego, Calif. This year's conference theme is Respond. Revive. SURVIVE. Challenging the Status Quo in SCA. You can find more information at https://citizencpr.org/summit2023