Purchase a Defibrillator
Starting Hearts mission is to help save the lives of Sudden Cardiac Arrest victims through free CPR and AED training and defibrillator access programs.  Sudden Cardiac Arrest can happen anywhere at any time to anyone, so place a defibrillator today!
Order a Philips Onsite Defibrillator Today!
Complete Package from $2,195 or $75 per month
Philips OnSite is designed for the ordinary person in the extraordinary moment. It is easy to set-up and includes automatic Life Guidance features like voice prompts and CPR coaching to help guide you through the treatment of sudden cardiac arrest.
Zoll AEDs guide you through the process of performing high quality CPR. In addition to WiFi connectivity and integrated pediatric rescue, the ZOLL AED 3® defibrillator provides real-time feedback for quality compressions and a color video screen that demonstrates needed actions, allowing bystanders to be able to act quickly and confidently in an SCA emergency.
---
Philips Onsite Defibrillator Package Includes:
• Philips Onsite Defibrillator
• Carrying case, rescue kit, 1 set adult electrodes, battery charge pack & orientation DVD
• 8-Year Warranty
• Medical Prescription
• Recognition on Starting Hearts' Nearest DEFIB map
• Site Evaluation
• Waterproof/Weatherproof DEFIB Cabinet

• Routine Replacement of Batteries and Adult Electrodes for 5 year
• Device Management System
• (Inspection/Maintenance logs, automated e-mail alerts and reports)
• CPR & DEFIB Training for Expected Users
• Written Policies & Procedures
• Dispatch Notification/Integration
• Ongoing Oversight
• Post-Event Support
---
Ensuring your Defibrillator is Always Ready to Go!
Your Defib Service Manager
You've made a smart decision to have a lifesaving defibrillator on site as a service to your community, clientele, employees, friends, and family. Now make sure your defibrillator is always at the ready with Starting Hearts DEFIB Service Program.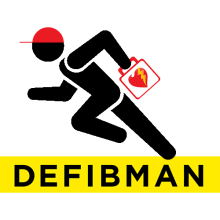 ---
Our Turnkey Program is Designed Just For You
We provide everything you need to ensure your defibrillator is always ready to go and in full compliance. Our program includes monthly email reminders and automatic replacement of pads and batteries prior to expiration, saving you precious time and trouble.
---
Peace of Mind with Total Support from a name you can Trust
Starting Hearts trains thousands of people every year in leadership and lifesaving skills, as well as places and maintains defibrillators in public and private. As a nonprofit, our primary motivation is to save more lives. We are pleased to be your service provider and support your wise decision to place a lifesaving defibrillator in your facility.
---
Financing available when purchased with new defibrillator