Join the Network of Heroes - Become a Neighbor Saver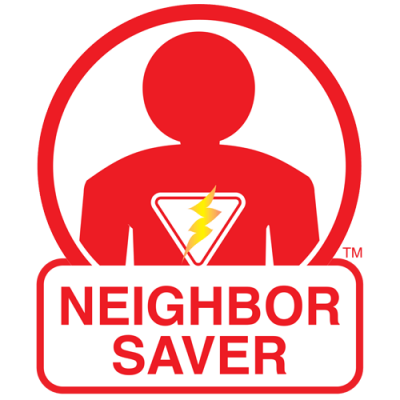 What is a Neighbor Saver?
A Neighbor Saver is someone who cares about their community, and the people in it. It's someone who has learned life-saving CPR skills and has either completed Starting Hearts Call.Push.Shock.™ class or has a certification from the American Red Cross, American Heart Association, HSI, or the like.
By knowing how to 1) Call 911 2) Administer Chest Compressions and 3) Apply an AED (automated external defibrillator), a Neighbor Save can make the difference in saving someone's life while waiting for EMS to arrive.  The crucial minutes between when a SCA (sudden cardiac arrest) happens and emergency services arrive on seen are extremely important and a Neighbor Saver can administer early bystander care and save a life.
---
What is Sudden Cardiac Arrest?
Sudden Cardiac Arrest is a condition in which the heart suddenly and unexpectedly stops beating and a electric shock is needed to restart the heart.  If not, death will occur within minutes of someone having SCA.  It is our nation's leading cause of death affecting nearly 400,000 Americans every year and more than 92% will not survive.
---
We offer CPR/Defibrillator Classes in English & Spanish
Our Call.Push.Shock.™ course aligns with OSHA's Best Practices for Workplace First Aid Training Programs and is available in classroom and blended learning formats. American Red Cross's new Simulation Learning training method is now available. Simulation Learning is an immersive online learning experience that allows you to make decisions – and mistakes – without fear, followed by an in-person skills session. A digital two-year e-certificate is issued upon successful completion of your course. Course length is three hours.